"The MR-PRO. A must have"
The new MR-PRO and MR2 receive acclamation from independent audio magazine editors such as "Pro Audio Review", "Production Partner" and "Studio Magazin". In their recent reviews they highlight the comprehensive applications of NTI's new Audio Signal Generator.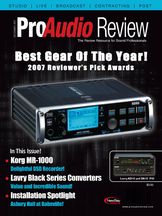 "The MR-PRO does what it claims", writes Mike Rivers in its December 2007 issue of "ProAudio Review", "and it does it very well. The compact size and shock protection make it ideal for the field kit, and the accuracy, precision, and low distortion of the signals it generates make it equally home in the lab or service bench. Good test equipment can answer a lot of questions about your gear and help you to find problems when they occur", Rivers concludes.
The German magazine "Production Partner" reviewed the MR2 and the MR-PRO in its October 2007 issue. Editor Christiane Bangert concludes that the NTI Minirator MR2 and MR-PRO offer all aspects of audio measurements required for handheld test applications.
"Studio Magazin", a renown German language AV journal, summarizes: "The Minirator MR2 und MR-PRO offers a perfectly design, intuitive user interface and a convincing signal quality for portable audio generators." Studio Magazin" reviewer Dieter Kahlen calls the new Minirators "a must have!"
Read the whole MR-PRO "ProAudio Review'" report
Visit the "Production Partner" website
"Studio Magazin's" homepage
Events
We are looking forward meeting you at the following events:
---
29th - 31st January 2008
Integrated Systems Amsterdam, NL
booth #D142
NTI will present the latest Minstruments developments:

The brand new Digirator DR2, digital signal generator

Minirator MR-PRO – now with even further extended functionalities

Accessories to MR-PRO for low level testing- and 100V system applications
Take the opportunity to receive first hand product demos.
---
12th - 15th March 2008
Prolight & Sound, GE
Hall 8.0, booth H05
MR-PRO is Technology Awards Finalist

The Minirator MR-PRO has been nominated for the Technology InAVation Awards 2008 in the category "Most innovative AV accessory". This award is assigned by the "InAVation Magazine", based on the online voting by their readers. Read more...

Furthermore the MR-PRO has been selected for the "Reviewer's Pick Awards" by the readers of the "Pro Audio Review" magazine. Read more... (page 72)