MR2 / MR-PRO Firmware Update available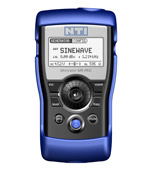 A new firmware for MR2 and MR-PRO is available for download.

The firmware update process is handled by the MR-Update software. It only requires a PC with USB interface and internet access. Please download MR-Update at http://support.nti-audio.com/mr2 and follow the instructions.
The new release offers (MR2: V1.10, MR-PRO V1.11):
An improved chirp signal quality with maximum +/- 0.2dB ripple.
The MR-PRO impedance measurement range is extended down to 30Hz.
MR-PRO users may load different types of wave files, e.g. stereo data, into the internal flash memory.
Please note: The personalized MR-PRO wave files need to be stored to the PC in advance.
Detailed information and manual amendments are available at http://support.nti-audio.com/mr2.
Events
We are looking forward meeting you at the following events:
9th - 12th September 2007
PLASA 07, Earls Court, London, GB
booth #K33
7th - 12th September 2007
IBC 07, RAI, Amsterdam, NL
booth #8158

Tested – and immediately bought two Acoustilyzers
The new Swiss Sound Protection regulation is applicable since May 2007. It forces all concert organizers to record the actual sound levels in the listener's area and store the documented test results for 30 days.

This task has also to be complied by the company "Eventpartner Pro AG", who supplies complete audio-, video- and light systems to concert organizers. For this purpose Eventpartner's manager Jörg Gantenbein evaluated the NTI Acoustilyzer AL1 during a concert in Appenzell / Switzerland. Gantenbein was immediately enthusiastic about the AL1 and reported: "The Acoustilyzer is extremely easy to use. I carried out the sound level measurements during the entire concert. Then I wired the instrument to the computer and the organizer had the logged test results readily available. That's it – simple as that!"

Immediately bought two Acoustilyzers

The week after he immediately bought two Acoustilyzer Sets including the MiniSPL measurement microphone. One set is for his company Eventpartner and another for his customer fabriggli buchs, a cultural centre. Thanks to the simplicity of the Acoustilyzer AL1, now they can record and document the concert sound pressure levels themselves.

Jörg Gantenbein tested the Acoustilyzer: "With the AL1 it is easy to record accurate sound level results following the new sound protection laws".