New Firmware V2.01 for Minirator MR-PRO
NTI extends the functionality of the analog signal generator MR-PRO by introducing the new firmware V2.01. Now Minirator MR-PRO measures the impedance and phase of the connected load and calculates the related power for 70V or 100V distributed loudspeaker systems.
The new MR-PRO firmware V2.01 offers: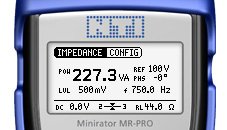 Faster impedance measurement with Apparent Power, Phase and Impedance
Cable Test Function includes detailed fault information
Level setting in "Volt" supports definite linear settings, e.g. 100 mV
Configuration files may be renamed
Detailed information and updated manuals are available at http://support.nti-audio.com/mr2.
Events
We are looking forward meeting you at the following events:
12th - 15th March 2008
Prolight & Sound, GE
Hall 8.0, booth H05
MR-PRO wins
Innovation Award
The Minirator MR-PRO has been awarded by winning the InAVation Award for the most innovating audio accessory.
More than 11000 voters have selected the MR-PRO as their favorite professional audio product. Thank you for choosing NTI.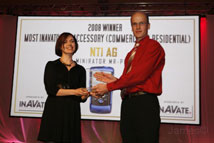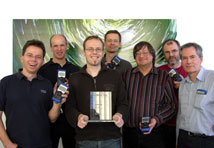 Society of hearing disabled purchases 30 pcs. MR-PRO

TAU Audio solutions, based in the North of the Netherlands, recently supplied 30 NTI Minirator MR-PRO units to the Dutch society of hearing disabled (NVVS). This society works for the interest of hearing disabled, providing support and communication. The NVVS engineers tested the MR-PRO for the first time in 2007 and acquired 30 units on the spot.
Because of the new European legislation EN 60118-4:2006 for hearing aid techniques, there was a need for more accurate measuring equipment. Reliability and accuracy are the most important factors in this application. The ''old'' method was very limited, and subject to noise-sources of unknown origin. With the new Minirator MR-PRO additional information can be acquired for analyzing and trouble-shooting of hearing aid systems. "Before the NVVS engineers had to assume that the tone generator generated the right signal in terms of shape, frequency and volume", adds Ron Vos of TAU Audio. "Now they are able to define and check the offered signals in the most accurate way. NTI makes measuring simple and accurate."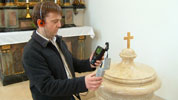 The MR-PRO's were supplied by TM Audio,
NTI-partner for The Netherlands.
TAU Audio Solutions: www.tau.nl
TM Audio: www.tmaudio.nl