TalkBox extended with Reference Speech Signals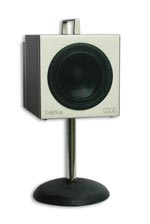 Microphones on stages or meeting rooms are commonly adjusted with a human speaker. He is repeating the familiar "one, two, test" or "check - check" phrases to stimulate the system and check for level or sibilance problems, etc. But human voices vary, and this is an inexact method at best.
The NTI TalkBox simplifies and improves this process. New additional reference speech signals have been added to the TalkBox, simulating a human speaker continuously talking into the microphone at a calibrated level. This allows the engineer to set the microphone level without asking someone to repeat the same phrase over and over.
Using the NTI TalkBox, the equalization for microphones can be completed by one person alone. The reference test signals are available in English and German language. TalkBox customers may download the new speech signals at http://support.nti-audio.com/tb1.
Events
We are looking forward meeting you at the following events:
5th - 8th October 2007
AES Convention, New York, USA
booth #260