Digirator DR2 finally available from Stock
The Digirator DR2 is our new reference grade signal generator for digital audio. The first Digirator left production end of 2007. Soon after this initial release many broadcast stations and professionals around the world purchased significant quantities, in particular because of interest in the surround sound test signals. As a result, the DR2 has been completely sold out over the last 8 months since then!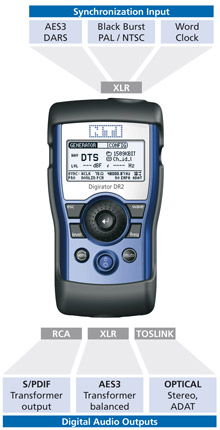 To address this situation, we have ramped up production, and we are pleased to report that we now have Digirators available from stock for the first time. Please feel free to contact your local NTI representative for an introduction or demo of this fascinating new instrument!
The DR2 is perfectly suited for installation, service and adjustment of digital audio systems in recording studios, broadcast and home cinema systems, and offers the following main features:

| | |
| --- | --- |
| • | Up to 192 kHz and 24 bit resolution |
| • | AES3, S/PDIF, TOS-Link + ADAT outputs |
| • | SYNC Input (AES3, Word Clock and Video) |
| • | 512MB Memory for customized *.Wav Files |
| • | Dolby and DTS Surround Sound Signals |
| • | Channel Delay and Transparency Measurement. |
Events
We are looking forward meeting you at the following events:
18th - 20th June 2008
Infocomm, Las Vegas, US
Booth #C4063

17th - 20th June 2008
Broadcast Asia, Singapore
Hall 7/7C3-05

25th - 26th June 2008
Event-Tech, Singapore

DR2 measures Latency of Broadcast Lines
Every time audio signals have to be sent across a digital network or a satellite link it makes good sense to check for time latencies (delay). In the past this has been a challenging task, but now the new Digirator DR2 measures latency of digital audio signals fast and accurately.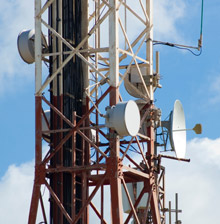 For this test the Digirator generates a short test burst every 2 seconds to the input of a digital system. By connecting the output of the digital system to the DR2 sync-input, the channel latency (delay) may be measured. The sync-input is continuously monitored and the delay calculated in milliseconds or video frames. Level adjustments and minor distortion don't affect the measurement result.
Latency in Broadcast
Problems with latency are common with digital broadcast systems, notably where audio and video latency times are different.
This causes the well known lip-sync problem for example, where facial and lip movements on screen don't correlate with the spoken words from the audio. For improvement, this requires accurate delay setting of the audio- and video signal.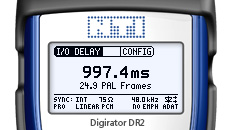 Before the introduction of the Digirator DR2, this was always difficult. Stopgap methods, such as converting digital audio into the analog domain and measuring the delays with a scope have their own problems – such as converter delays which themselves may cause additional delays from a few samples up to 1-2 ms. The Digirator DR2 simplifies the delay measurement and does it all in the original digital domain.